Signage is one of the most important elements of any business or event. When done right, signs can make your business or event highly visible and promote your brand. Whether you're looking to make your storefront stand out, professional signage can make all the difference. Signs are also versatile and perform several necessary functions that keep your space well-organized for your customers.
Well-designed signs or banners draw attention to your business or that special event. Let the team at Precision Printing and Copy Depot sit down with you and go over the many option that you have.
Banners: Stunningly vibrant, indoor or outdoor, printed single or double sided, or in a retractable stand, with the following options of Welding, Grommets, Pole, Rope.
Coroplast: High definition perfect for yard signs (Options: many sizes to choose from, custom cut, gloss finish, single or double sided).
Foamcore: Lively presentations, sturdy & durable, single or double sided, indoor applications.
PVC: Good indoor or outside, Great for displays printed single or double sided.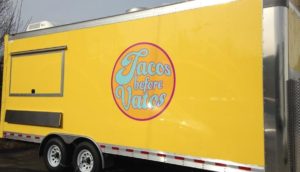 Aluminum: Heavy Duty Signage for outside post or frame. Printed single or double sided.
Canvas: Polyester cotton in semi-gloss or gesso finish.
Mesh Banner: For Outdoor use and to reduce resistance.
Backlit Signage: Illumination film for backlit signs.
Controltac: Vehicle wrap long term pressure activated.
Dual View Window Graphics: Double sided window adhesive, great for graphics printed on both sides of a window.
One-Way Window Graphics: Perforated white vinyl printed on one side with 50/50 visibility. Advertising on the outside, visibility from the inside
Foot Prints: Anti-Slip surface. Worry free advertising for your floors.
Cut Vinyl: Letters or shapes cut from vinyl and applied to cars, windows, walls, and many other things.
---